Hero Image

Volunteers can make a big splash at Melbourne Water
Melbourne Water is celebrating the incredible impact of its volunteers to mark National Volunteer Week this week (16-22 May).   
The theme is "Better Together" which encapsulates the role of our citizen scientists, who are of all ages, and help us better track the health of our waterways through a number of different programs. 
This includes the Frog Census, Platypus Census and Waterbug Census, River Detectives Program and Waterwatch Victoria.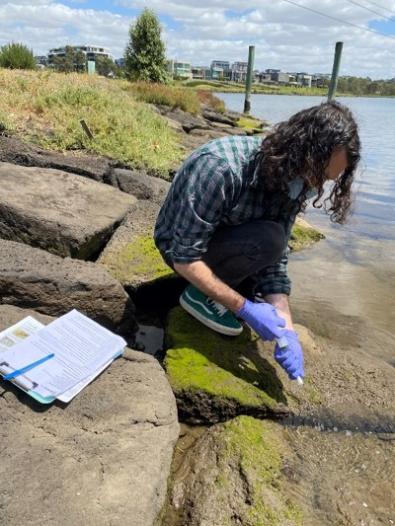 Melbourne Water's Team Leader Education and Capacity Building, Yvonne Cabuang, said National Volunteer Week is the perfect time to say thank you for the time, dedication and energy of our volunteers and to encourage other people to get involved.   
"We are excited to have our programs back up and running after COVID-19 pandemic disruptions in 2020 and 2021," Ms Cabuang said.   
"The enthusiasm of our volunteers is as strong as ever. They care about our environment and enjoy connecting with others with a shared vision to do their bit, no matter how big or small, to protect it now and for generations to come."  
The data collected by citizen scientists in Melbourne Water programs is important to our work. It contributes to scientific research, management planning and on-ground actions that improve the health of our rivers, creeks and wetlands. 
Every bit of help empowers the community and supports Melbourne Water's mission to enhance life and liveability.  
One significant innovation program undertaken with volunteers has been the extension of platypus monitoring to using environmental DNA (eDNA) techniques. Use of eDNA allows us to survey platypus numbers by collecting a simple water sample, which is tested in a laboratory to see if platypus DNA is present. This is an effective way to determine the presence of platypus in an area.  
Melbourne Water partners with councils, schools and community groups, allowing people to learn about their local environment and habitats, increase their understanding of science and make a meaningful contribution to their area.  
If you would like to learn more about our volunteer programs visit Be a citizen scientist | Melbourne Water  
Contact:  [email protected]