Hero Image

That's a wrap – huge rubbish haul for community litter action project
Residents, schools and environmental groups have rallied to rid their region of rubbish as part of Melbourne Water's innovative Litter Action Project, which has wrapped up after nearly four years.
Melbourne Water's Team Leader Education & Capacity Building Yvonne Cabuang said the community had carried out regular clean-ups and rubbish audits at litter hotspots and waterways in local areas – and in doing so - had made a huge and positive difference to the environment.
"In the past 3 and a half years Litter Action groups have removed and recorded almost 40,000 pieces of litter - with single use soft plastic and polystyrene the most widely collected items. This is an amazing achievement."
Population growth and urbanisation means more litter is reaching our waterways. That rubbish threatens surrounding habitat and the wildlife that live there - affecting water quality, stifling plant life and presenting as a potential choking hazard to platypus, fish and birds.
Ms Cabuang said most people don't realise that more than 90% of litter that ends up in Port Phillip Bay comes from rubbish dropped on suburban streets - because when it rains, litter gets washed into stormwater drains and ends up in our waterways.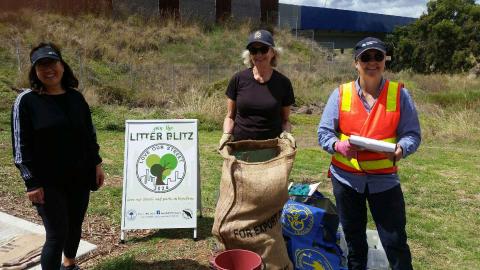 "Litter ending up in our creeks and Bay could have come from many kilometres away and Melbourne Water spends a lot of time and money every year removing it from our rivers and creeks.
"The tireless efforts of Litter Action volunteers over the past few years and their determination to make a difference on the ground have made a big social and economic impact to our waterways and community," Ms Cabuang said.
Melbourne Water estimates the economic contribution of the thousands of volunteer hours of rubbish collection through the Project is significant – equating to almost $237,500.
"Litter is a problem for all of us and Litter Action members are raising awareness through action that rubbish is everyone's responsibility. We know waterways are important for human connection – our rivers and creeks provide places for us to exercise, relax, socialise with family and friends and connect with nature. It has been wonderful to see so many in our community respect and want to preserve that," Ms Cabuang said.
The Litter Action Project was supported with a grant from the Department of Environment Land Water and Planning (DELWP).
Media Catherine Garrett : 0429 219 084