Hero Image

`Plenty' of plants revitalises suburban river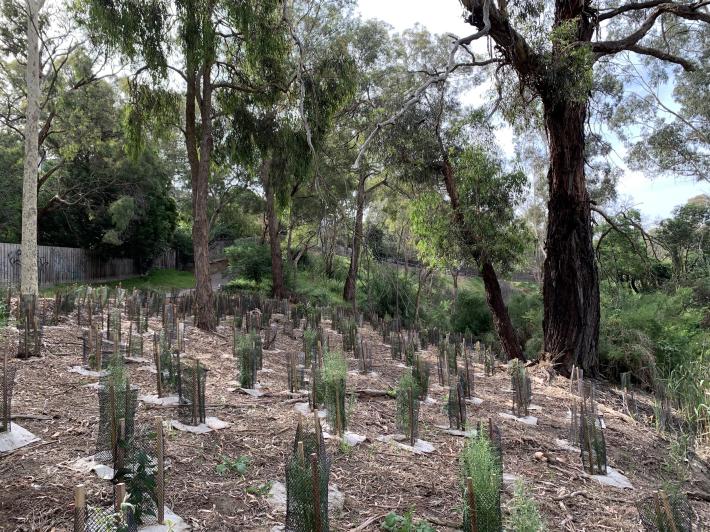 The finishing touches have been put on an important revegetation project along a 2km stretch of the Plenty River in Melbourne's north – just in time for the community to enjoy over the Christmas and New Year break.
Since autumn, crews from our Waterways and Catchment Operations have worked to clear out weeds, do brush-cutting and prepare areas along the Plenty for planting.
Project Manager Mitch Lakeland said, in total, 7000 plants have been put in the ground along the Plenty Main Trail as the river winds its way through the suburbs of Greensborough, Montmorency and Yallambie.
Native trees, shrubs and grasses were planted to stabilise the banks of the river while planting semi-aquatic species has just finished that will not just improve water quality but habitats for the animals who live there – especially platypus and rakali.
"It's really rewarding to be involved in a project where there is a great environmental outcome that's also highly valued by the public," Mitch said.
"The Plenty River through Greensborough is widely accessed by the community.
"Historically, Melbourne Water's role has been to carry out a preventative maintenance programme.
"But the release of the Healthy Waterways Strategy in 2018 identified opportunities for capital projects that would further enhance the Plenty River. This project is helping communities along the river better connect with their waterway."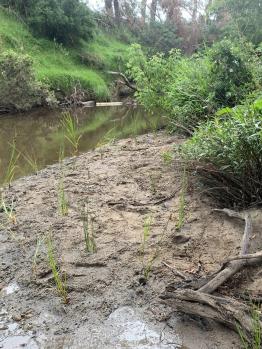 Local residents and people that use the Main Trail on a regular basis have been pleased with the transformation of the area – particularly pleased to see more native plants in the ground along this section of the river.
Melbourne's rivers and creeks play a vital role in providing wildlife corridors says Melbourne Water's NRM Leading Hand Scott van Vuren.
"While we were doing this planting we were lucky enough to encounter an echidna, wombat, swamp wallaby, several blue tongue lizards and a tawny frogmouth," Scott said. 
"Seeing our hard work be successful so quickly is really pleasing. Creating habitat and enhancing the environment is why I work in natural resource management."
Melbourne Water's Waterways and Land Officer Nathan Mattinson said the project  complements revegetation work completed by Banyule City Council.
"This project is a great example of what can be achieved working with passionate members from Melbourne Water's crews who want to see the site enhanced for the community to enjoy," Nathan said.
"The benefits of this project will be there to see for generations to come."