Hero Image

Our Water Heroes - Sarah Gaskill
National Water Week's theme – caring for water and Country – is something we take seriously every day and we are proud of the team that makes it happen on behalf of Melburnians.
Meet Sarah Gaskill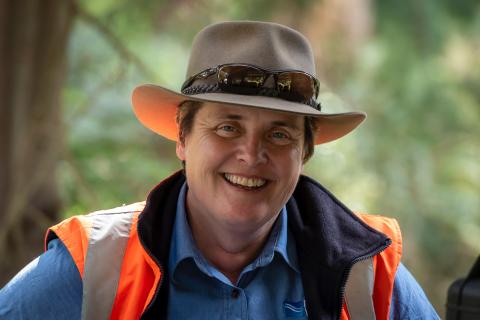 Sarah Gaskill is Melbourne Water's Environmental Water Resources Delivery Lead.
Every day she works with various partners across Melbourne to deliver water to our creeks, rivers and wetlands. As Melbourne has grown, not all waterways receive the water they need, so Sarah helps them out, alongside the Victorian Environmental Water Holder, to ensure systems such as the Tarago, Werribee and Yarra rivers receive what they need.
Ultimately, Sarah and her team help to provide the ideal environmental for Melburnians to spot an urban platypus in their local creek, and to enjoy the scenery provided by our native plants along Melbourne's waterways.
What does water mean to you?
Water is life. It isn't a resource that should be taken for granted – it should be valued. Working on Country with the Traditional Owners, I have learnt more about the old knowledge and really enjoy linking it with the new science. We have so much to learn together to ensure everyone gets the water they need in a changing climate; whether that is to provide water and sewage services or to support ecological, cultural and liveability values.
How do you care for water in your everyday life?
Being aware and sharing stories. Sometimes it's the small things that add up such as switching off taps when brushing teeth, time efficient showers, water efficient washing machine. I like to raise awareness around litter and specifically platypus – so just a conversation around hairbands helps care for our waterways. We have water tanks for the garden – that are very satisfying to use. Everyone can play their part.
Why is it important to care for Melbourne's water?
Our waterways and wetlands provide us with much more than drinking water. The waterways are iconic to the Melbourne region, providing recreational areas to value – especially through the pandemic. We need to look after Country for future generations – linking the old knowledge with the new science to understand more. Stormwater, litter, pollution all present challenges, yet working together we can achieve more for the future.