Hero Image

Our Water Heroes - Narelle Fellowes
It's National Water Week and, to celebrate, Melbourne Water is highlighting the people who care for Melbourne's water.
Whether it's drinking water from your tap, or the platypus in your local creek, to the recycled wastewater at our treatment plants, it takes a committed team to enhance Melbourne's life and liveability.
National Water Week's theme – caring for water and Country – is something we take seriously every day and we are proud of the team that makes it happen on behalf of Melburnians.
This week, we'll introduce you to three committed water carers at Melbourne Water. Each one has their own speciality, but their passion for water and the life it brings to Melburnians and the environment is something they all have in common.
Find out more about Melbourne Water's National Water Week events:
Meet Narelle Fellowes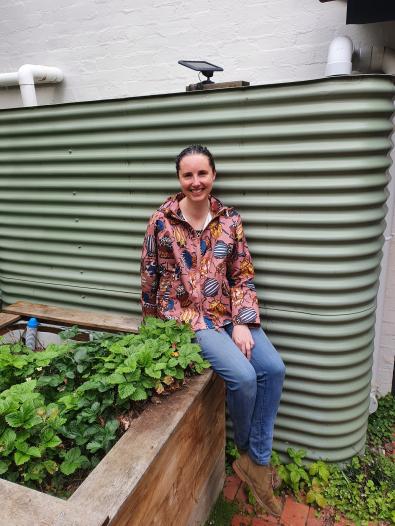 As Team Leader Innovation & Partnerships, Narelle's team manages Melbourne Water's 'Our Path to Net Zero' project to identify opportunities to reduce our greenhouse gas emissions from wastewater treatment plants.
Treating Melbourne's waste is energy intensive so Narelle works to understand how we can use resources, such as biogas, to generate renewable energy and other ways to lower emissions even further in the future.
What does water mean to you?
Water means life.
How do you care for water in your everyday life?
I have water tanks which are used to flush our toilets and water our garden. Since working at Melbourne Water I have also become a lot more aware about what I put into the sewerage system via the drains in my own house – only flushing what the system is designed to take (the three Ps!), reading and understanding what chemicals are in cleaning products and washing powders and making sure fat and grease from the kitchen goes in the bin and doesn't go down the sink. Just like saving water, individually small changes in what we put back into the system collectively can make a big difference at our treatment plants.
Why is it important to care for Melbourne's water?
Water is a valuable resource and climate change will put even more pressure on conserving and protecting this valuable resource. It plays an important role in everything Melbournian's love about Melbourne from the Yarra, Port Philip Bay and our green spaces. I also can't think of anything more essential to human health and our environment than access to clean water and wastewater treatment, which sometimes is very easy to take for granted living in Melbourne.