Hero Image

Our Water Heroes - David Norman
Whether it's drinking water from your tap, or the platypus in your local creek, to the recycled wastewater at our treatment plants, it takes a committed team to enhance Melbourne's life and liveability.
National Water Week's theme – caring for water and Country – is something we take seriously every day and we are proud of the team that makes it happen on behalf of Melburnians.
Meet David Norman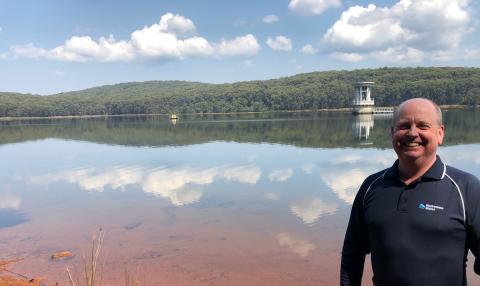 David Norman cares for Greater Melbourne's water supply system for Melbourne Water.
It's a big job managing our water supply operational teams and working with Melbourne's water retailers to ensure the daily flow of water to more than five million customers. But, it's a job David enjoys.
During National Water Week, we asked David about how he values his relationship with water.
What does water mean to you?
Water is the life blood of our city and Country, underpinning our existence and our many diverse and unique environments.
It facilitates our parks, gardens, waterways and the general prosperity and wellbeing of the city and Country along with the agricultural regions that feed our growing population.
How do you care for water in your everyday life?
I grew up on a farm in north-east Victoria so I learned from an early age to appreciate the value of water. Every storm cloud represented opportunity, whether that be rain to help the next food crop sprout, top up the family's rainwater tank or breed life into the local creek.
Living in the city in recent years has made me appreciate even more the opportunity for a walk or bike ride along the beach, local waterway or visiting one of our many reservoir parks.
Knowing that my family readily has access to clean and reliable water supplies when we turn on the kitchen or bathroom tap is also both convenient and reassuring.
Why is it important to care for Melbourne's water?
We are fortunate in Melbourne to have some of the best quality water supplies in the world and it's important to make the most of every drop, recognise that water can come from a range of different sources and we must be careful to manage its quality accordingly.
This is reinforced by the fact there is only a finite amount of water that is both readily accessible and usable for supporting the city, recreational pursuits and the environments needs.
While a portion falls from the sky, the reliability of this source is becoming increasingly more variable and, as our population grows, we are becoming more reliant on manufactured sources of water to supplement our needs.
This all comes at a cost and we must recognise the associated value that water offers and importance of efficient use – and care for it accordingly.