Hero Image
New Melbourne Water Managing Director begins her role
The new Managing Director of Melbourne Water, Dr Nerina Di Lorenzo, has commenced in her role and will play a critical role in ensuring water service delivery for Greater Melbourne continues now and into the future.
Dr Di Lorenzo has over 21 years of experience in senior leadership roles, the most recent being as the Executive General Manager of Service delivery at Melbourne Water, a position she had held since 2019. 
Prior to joining Melbourne Water, Dr Di Lorenzo was the CEO of Moreland City Council; she has also held roles in the oil industry working on oil rigs in Bass Strait. Her roles have spanned the areas of asset management, infrastructure operations, project delivery and business improvement.  
Dr Di Lorenzo holds a Bachelor of Engineering, a Bachelor of Business and a PhD centring on the topic of organisational change management.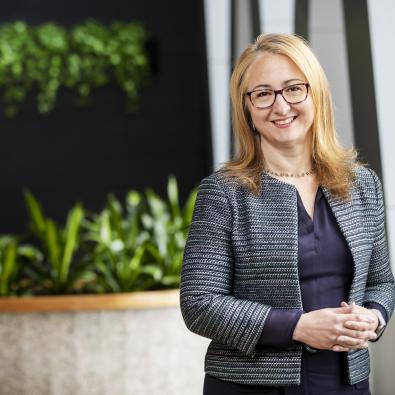 Dr Di Lorenzo thanked outgoing Managing Director, Michael Wandmaker, for his outstanding work over the last seven years. 
"In his time with Melbourne Water, Michael has delivered significant business improvements and made great strides forward on safety improvement, increased employee engagement, innovation and in optimising all aspects of our operations to keep customer water bills as low as possible. He is leaving the organisation in great shape," Dr Di Lorenzo said. 
Dr Di Lorenzo said she was thrilled to have taken on the Melbourne Water Managing Director role.
"I'm particularly excited about forging stronger relationships with Traditional Owners, customers and delivery partners. The sector is facing big challenges including long term water security, reducing our greenhouse gas emissions, improving the health of our rivers and catchments and making greater Melbourne an even better place to live. We can only meet these challenges by working hand in hand with our customers and the community," Dr Di Lorenzo said. 
"This is the decade that matters for Greater Melbourne in terms of water security. We need to ensure we have secure water supplies as we move towards the unprecedented challenges of climate change and population growth. 
"As the climate gets drier and our population grows we will need a diverse and resilient water supply, including increasing the use of recycled water for non-drinking purposes, desalination and being more efficient with the way we all use water. 
"I look forward to leading this great organisation through this exciting chapter and making a real impact in the water industry so that, together, we can continue to provide Greater Melbourne with the world class, affordable services it deserves."
Media contact: Terry Sefton, Media and External Affairs Manager – 0451 052 990