Hero Image

Melbourne Water plants support for a cooler greener west
Melbourne Water has joined the State Government's campaign to create cooler, green spaces in the city's western suburbs.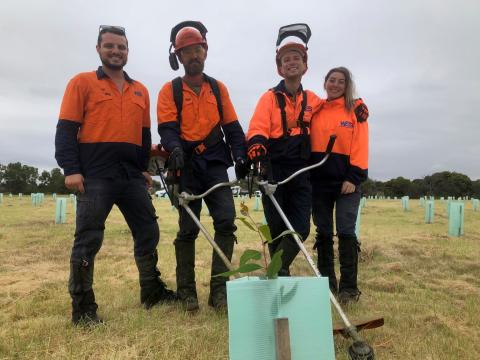 Our North West Waterways and Catchment Operations crews, pictured left, have put 700 trees into the ground at Cherry Lake in Altona with visions to plant more at various locations across the west in 2022.
It's all part of the State Government's $5 million 'More Trees for a Cooler, Greener West' initiative which seeks to plant 500,000 trees which will provide more shade and green spaces and as a consequence help to drive down pollution, improve air quality and help in tackling climate change.
Research from 2018 showed that the western suburbs had just 5.5 tree cover compared to 17.4 per cent in the inner south-east and 25.9 per cent in the east.
These trees, importantly, will help reduce the urban heat island effect which leads to higher temperatures and lower air quality in those urban communities without enough vegetation.
"Over time, these trees will create a diverse, woodland habitat providing shade and cooling and creating a pleasant environment for locals and visitors," Melbourne Water's North West Regional Services Team Leader Ben English said.
"This latest round of planting at Cherry Lake complements a project carried out by Melbourne Water staff earlier this year when we planted around 8000 trees and bushes.
"Through our Urban Cooling Program, we're committed to creating cooler and greener public places right across Melbourne so that people can enjoy more time outdoors and in nature."
In 2022 we're aiming to plant thousands of trees across Melbourne's west as part of the State Government's initiative and support not just local councils but also complement our Healthy Waterways Strategy.