Hero Image

Melbourne Water innovator wins top industry award
An inspirational Melbourne Water executive has won a top industry award, the Australian Water Professional of the Year.
General Manager for Major Program Delivery, Eamonn Kelly, was presented with the prestigious award last night at the OzWater conference Gala Dinner in Brisbane, hosted by the Australian Water Association.
Mr Kelly was recognised for his outstanding contribution to the water sector and his dedication to inspiring positive change in the delivery of innovative and world class infrastructure projects.
Mr Kelly said he was humbled to receive the award, instantly giving thanks to the passion, commitment and contribution of his team.
"It is an honour to work with fantastic people at Melbourne Water who are energised by our mission to enhance life and liveability through our work," Mr Kelly said.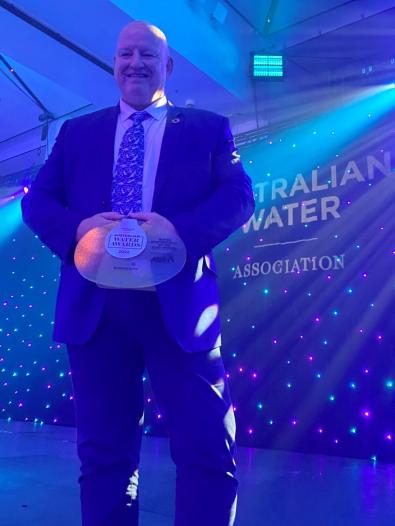 "The greatest reward is to see the success of our programs that truly make a difference to the community. In particular, the Pathways Program which provides employment opportunities for people from culturally diverse backgrounds. These people have so much to offer and enrich our organisation."
Mr Kelly is also proud of his involvement in the creation of the first 100% Aboriginal-owned civil construction business, Wara Paring, noting its ongoing drive to create further job opportunities for Indigenous young people across the water industry.
Melbourne Water's Managing Director Nerina Di Lorenzo congratulated Mr Kelly.
Eamonn Kelly is an innovator, who demonstrates a deep-rooted commitment to best practice safety and social procurement while successfully overseeing a Major Capital Program, which has grown to $400M annually," Dr Di Lorenzo said.
"Eamonn leads by example, challenges thinking and influences change for the better across the industry."
Melbourne Water was also a finalist in the Infrastructure Project Innovation Award for the Reimagining Your Creek program. Under the program, a 650 metre stretch of Blind Creek in Boronia and a 1.4 kilometre section of Arnolds Creek in Melton West were transformed from concrete lined channels into natural waterways.
Media Contact:
Emily Granland  [email protected]