Hero Image

Melbourne Water employee recognised for dedication to improving safety
Melbourne Water has congratulated long-term employee George Vagias who was recocognised with a WorkSafe Award last night.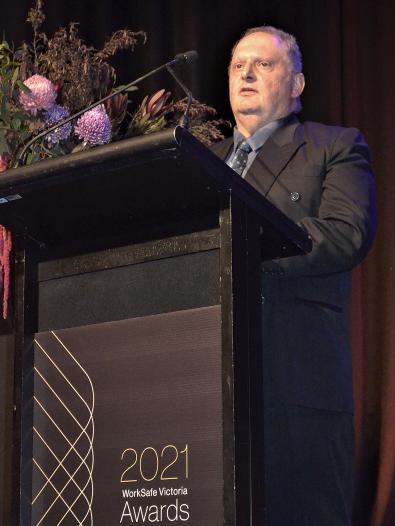 George won the Worker Return to Work Achievement category for demonstrating remarkable leadership in enhancing safety systems after being injured in a workplace accident. 
George suffered burns to 60 percent of his body and broken bones during a switchboard explosion 13 years ago. He was carrying out maintenance on a high voltage breaker for the Sewerage Transfer network when he was thrown across a room and a steel circuit breaker landed on top of him. George was placed in an induced coma for 30 days and his family was told he may not survive. 
"I experienced a lot of pain in my recovery as a result of the burns, but I took positive steps forward because my goal was to return to work and to a routine," George said. 
"I was fortunate to be in a position to come back on a part time basis six months after the event and felt well supported by Melbourne Water and my work mates. It was important for me to take the opportunity to get involved in the accident investigation to do what I could to make things better for my colleagues and the industry."  
George, who has worked at Melbourne Water for 30 years, played a key role in improving electrical standards including designs, Personal Protective Equipment selection and switching processes. He also helped develop a new Entry to High Voltage (HV) Enclosures Training Package which includes videos and content to remind people to treat HV equipment with respect. 
David Tregoweth, General Manager of Safety at Melbourne Water applauded George for this important recognition of his leadership and commitment to continuous safety improvement and education.    
"Melbourne Water takes the safety and wellbeing of our people very seriously," Mr Tregoweth said.  
"We promote a collaborative approach to safety so George's willingness to share his side of his experience has been invaluable. Our ultimate aim is to prevent accidents and injuries right across the business."
Video: Making high voltage safer at Melbourne Water (vimeo.com)
Media contact: [email protected]