Hero Image

Meet our essential workers: Tim Rodman
As an essential service provider, Melbourne Water's staff continue to ensure reliable water, sewerage and drainage services, as well as protecting the environmental health of Melbourne's rivers and creeks.
Our essential workers provide safe drinking water and help to protect the health and environment for communities across greater Melbourne, and we want to highlight the great job they are doing every day.
Tim Rodman is a water supply operator for the Yarra Ranges team. His team's main responsibilities are to operate and maintain assets that capture and harvest water for Upper Yarra, O'Shannassy, Silvan and Maroondah dams, and to operate water treatment plants that service the Yarra Ranges communities.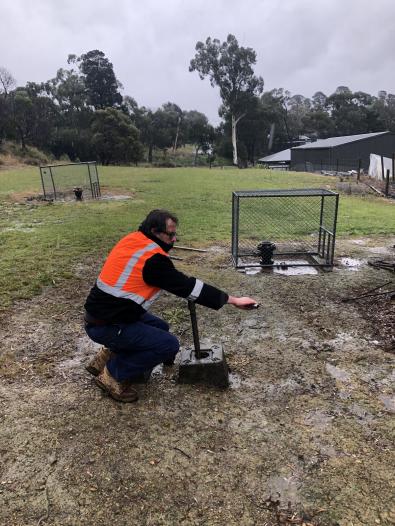 MW: What is your role at Melbourne Water and what does that entail on a daily basis?
TR: I work as a Water Supply Operator in the Yarra Ranges team.
Our daily functions are to ensure the three Yarra Valley filtration plants and five other primary disinfection treatment plants continue to operate within the correct parameters to meet the expectations of our customers and community.
Another core function is to ensure the continuity of supply through the open aqueduct channels and transfer pipeline that make up a portion of the greater Water Supply Network.
How has your work load / working day changed in the current environment? 
My workload has not really changed. It's essentially business as usual. 
The team arrangement has changed, in that it's segregated and the area is divided into two smaller teams. This is to minimise the risk of contamination between operators and technicians, to ensure that there is a backup if an individual was to become unwell.
What challenges are you facing to do your job? What have you learned from this experience?
The biggest challenge was to stay connected with each other and the business as we endeavour to keep segregated for everyone's safety. Our team has resolved most of our on-site issues by using apps like Skype.  This has been a positive move forward as we can have more people contributing.
How are you practising social distancing on the job? 
We've established exclusions zones for operations staff and other contractors or visitors who attend our sites.  Also, with the access approvals step that has been introduced to ensure visitors coming to site have the appropriate control measures to keep themselves and operations safe. There's also more general awareness of good hygiene.
In general, how are you coping both personally and professionally from this new working environment? 
Generally I felt that I've coped well with the change. Initially it was a little challenging keeping in contact but once the connectivity issues were address, it was pretty much business as usual. 
How are you being supported by your colleagues, manager? 
We've kicked off a regular Skype hook-up to keep in contact with each other within the team and with our Team Leader. There is also constant comms with each other as we go about our business. Management is providing regular updates which is also beneficial. 
What do you love most about your role?
I feel proud to be a part of a team that provides such a valuable and essential service for the community.