Hero Image

Meet our essential workers: Mitch Blood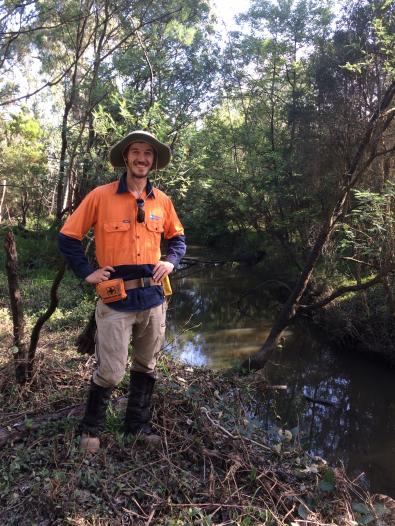 As an essential service provider, Melbourne Water's staff continue to ensure reliable water, sewerage and drainage services, as well as protecting the environmental health of Melbourne's rivers and creeks.
Our essential workers provide safe drinking water and help to protect the health and environment for communities across greater Melbourne, and we want to highlight the great job they are doing every day.
Mitch Blood leads a crew of Natural Resource Managers to improve waterways throughout the Port Phillip and Western Port Bay regions.
What is your role at Melbourne Water and what does that entail on a daily basis?
 My role at Melbourne Water is to lead a small crew of Natural Resource Managers to improve waterways throughout the Port Phillip and Western Port Bay regions. Every day we work out how best to utilise our time to maximise the positive impact. Our tasks include revegetating degraded creek lines to improve water quality, removing invasive plants to increase biodiversity and enhancing the natural amenity of community areas.
How has your workload/working day changed in the current environment?
 The current environment hasn't greatly impacted our working day or work load. The main changes revolve around social distancing practices. We have measures in place to ensure we work adequate distances from one another, work with the same people to reduce the risk of team cross contamination, drive our own vehicles to and from site, communicate with other teams remotely and increase the occurrence of cleaning.
What have you learned from this experience?
 The experience has really shown me how our team pulled together – quickly adapting to a changing environment and being there to support one another along the way. Melbourne Water always puts safety first and we are always supported to do our job in essential service delivery. The experience has reiterated the importance of a healthy environment and impact our work can have in the community. There has been a significant increase in the use of natural areas by the public for mental health and exercise – these places are essential for well-being.
How are you practising social distancing on the job?
By maintaining a minimum of 1.5 metres between crew members at all times. We have implemented a new driving procedure which ensures we aren't sharing vehicles and all of our equipment is correctly cleaned after use. We have reduced the amount of people that work together and will often use natural barriers like a creek to ensure separation. Lastly, we use signage at entry and exit points to remind them of social distancing.
How are you being supported by your colleagues, manager?
During this time - support from colleagues and managers at work has been instrumental in maintaining morale and mental health. The experience has strengthened bonds between colleagues as we turn to one another for social interaction. Regular communication and routine has provided support and a feeling of normality. Managers have acted to ensure we have the necessary safety equipment, feel comfortable in delivering works and regularly sought to check in.
What do you love most about your role?
My favourite thing about my role is being able to contribute to the conservation of greater Melbourne's  plants and animals. I get great satisfaction from knowing my work positively impacts the natural landscapes species rely on for survival. I have been able to work on projects targeted at ensuring the ongoing viability of populations of nationally and state listed species including, Southern Brown Bandicoot, Dwarf Galaxias, Grey Headed Flying Fox, Helmeted Honeyeater and Swamp Skink. I feel very lucky on that score.