Hero Image

Join our team of seasonal project firefighters! Recruiting now
Melbourne Water is recruiting 32 seasonal project firefighters in the Yarra Valley and Latrobe Valley to help protect communities and the environment for the upcoming bushfire season.  
Melbourne Water firefighters form part of Forest Fire Management Victoria (FFMVic). They protect water catchments, which supply some of the highest quality drinking water in the world to Greater Melbourne, from bushfires.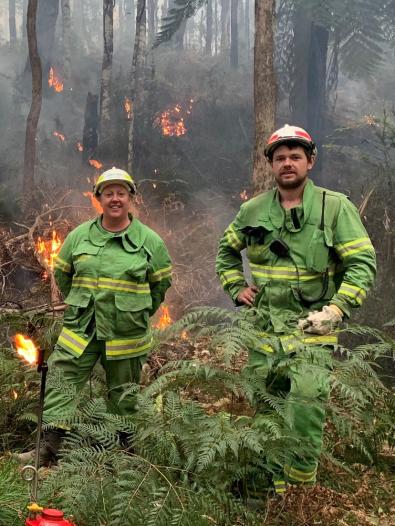 Renelle Verkes has been a firefighter for more than 30 years, including eight with Melbourne Water. The Operations Officer is extremely passionate about her role.   
"I find it incredibly rewarding, particularly being part of a close and professional team. You can sometimes work long shifts in hot and difficult conditions. It can be physically and mentally taxing, but you are in it together," Renelle said.  
The seasonal project firefighter roles involve being on the frontline fighting bushfires, along with bushfire fuel reduction work and land management activities to reduce the risk of future bushfires. 
The six-month contracts begin in November and applicants need to live within 30 minutes of Healesville or Warburton or 45mins from the Thomson Dam.  
People who are community-minded and love the outdoors are encouraged to apply. Driver licence and medical and fitness assessments are required. Successful recruits will be fully trained and work alongside a range of fire management agencies right across the state.  
FFMVic is made up of skilled staff from the Department of Environment, Land, Water and Planning (DELWP), Parks Victoria, Melbourne Water and VicForests. 
"If you would like to protect and preserve our catchments, are fit and healthy and would enjoy working with amazing people within Forest Fire Management Victoria, then apply," Renelle said. 
"Who knows where this path of employment might take you. Have a go!" 
Applications close on Sunday July 31, 2022. More information here. To apply click here.  
Media Contact:  [email protected]
Project firefighters

View roles and requirements and apply online via the Forest Fire Management Victoria website.

Seasonal firefighters

Learn more about what it's like to become a Melbourne Water seasonal firefighter.