Hero Image

It's time to spot a platypus
Platypus mating season is here, which is not only a fantastic time to learn about these iconic Aussie mammals, it's when you are most likely to spot one in the wild. 
Between August and October platypuses are at their most active in Greater Melbourne as they forage in rivers and creeks for food and seek out a mate.  
Melbourne Water runs popular educational sessions to provide inquisitive nature lovers with professional advice on platypus observational monitoring. 
Melbourne Water Waterwatch Coordinator Ben Hudson said anyone can get involved in platypus monitoring by reporting their sightings using the PlatypusSPOT application, or by taking part in the Platy-Project during September hosted by the Australian Conservation Foundation.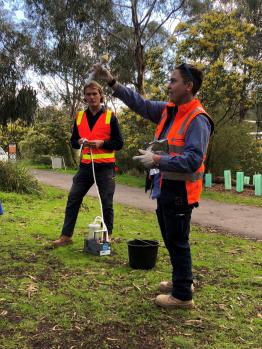 "We encourage people in the community to become citizen scientists and help us monitor platypuses," Mr Hudson said.   
"Their efforts build knowledge of local platypus populations which helps researchers better understand this fascinating animal. It also helps us manage our waterways to protect them in the future.   
"But remember, they are shy and largely nocturnal, so the best time to spot one is at dusk or dawn." 
Platypuses can be spotted in a number of rivers and creeks around Dandenong, Werribee, Maribyrnong, Westernport and the Yarra River and tributaries. They are egg laying, duck-billed, web-footed, venomous, bio-fluorescent creatures - features that make them unique.  
The platypus is currently listed in Victoria as vulnerable to extinction. 
"The decline of platypus around Melbourne's waterways is largely due to the related impacts of a growing city that has more stormwater run-off from built environments and roads. This water flows into creeks and rivers where platypus live and can damage their habitat," Ben Hudson said.  
"There is also mounting evidence of further decline. This makes it crucial to monitor the health and populations of platypus to decide where to focus investment and guide strategic management actions and decisions moving forward."  
Melbourne Water's Waterwatch team has been connecting the community with their local waterway, to spread the awareness of platypus, by hosting events such as the recent Planting 4 Platypus tree planting day. 
The team also helps facilitate platypus eDNA sampling, which allows scientists to analyse samples of water for environmental DNA. When active, platypus are constantly secreting waste and shedding fur that can be filtered from a water sample. This is an exciting and efficient technological advancement.  
For more information about Melbourne Water's platypus program and any upcoming platypus events visit here.  
Greater Melbourne waterways provide habitat for plants and animals and are critically important in sustaining much of the region's biodiversity. That's why at Melbourne Water, together with other groups, we are constantly tending to all the rivers, creeks and surrounding land of our greatest backyard. 
Media Contact:  [email protected]