Inspiring change in challenging times
A Melbourne Water executive, who demonstrated extraordinary leadership and innovation through the COVID-19 pandemic, has been named in the IPAA Top 50 Public Sector Women 2021 .  
Melbourne Water General Manager, People and Capability, Paula Jeffs was included in the prestigious list at a presentation in Melbourne last night.
Ms Jeffs played an integral role in the creation of more than 110 jobs as part of the Working for Victoria initiative to support people and businesses impacted by the pandemic. These jobs were welcomed by the individuals and helped Melbourne Water continue its essential work in caring for the city's waterways and land. Ms Jeffs also sponsored and is leading longitudinal research into the environmental and societal benefits of remote and blended working, that includes a focus on operational and field roles.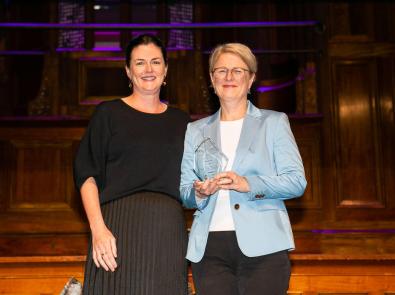 Melbourne Water's Managing Director Nerina Di Lorenzo congratulated Ms Jeffs and said she played a critical role at a time of ongoing uncertainty and change.  
"Paula's expertise, dedication and compassion helped us navigate challenges and quickly adapt and thrive in new ways of working," Dr Di Lorenzo said.  
"She lives our core values of care, courage and integrity. Her contribution will have a lasting impact, with Melbourne Water priding itself on its blended working model as an enabler for us to deliver better outcomes for our people, customers and community."
Ms Jeffs people and capability career has been built over 25 years, in both ASX and public sector organisations across the finance, healthcare, pharmaceutical and utilities sectors.
She said she is humbled by being named as an IPAA Top 50 Public Sector Women 2021 awardee.
"I am passionate about my role at Melbourne Water because it provides me with  the opportunity to contribute to high impact public programs that promote community health, life and liveability.
"I am proud to use my skills in such a purpose led organisation and sector that is about supporting communities to thrive now, and into the future"
Media Contact:  [email protected]