Hero Image

Hadfield Park receives 40,000 native plants during upgrade
Students from Wallan Secondary College have rolled up their sleeves to help Melbourne Water plant native trees and shrubs at Hadfield Park, which is a key feature of the redesign of the local community asset located centrally in Wallan. In all, there will be 40,000 native plants to improve water quality and provide habitat for local fauna including birds, reptiles, insects, frogs, and macroinvertebrates.
 Before the upgrade, Melbourne Water, with the help of the community, identified that removing a centrally located concrete pipe provided the opportunity to naturalise the watercourse into a local waterway.
Melbourne Water Manager of Waterways and Land Program Development Rod Clifford said Melbourne Water was very pleased to be able to deliver this project for the Wallan community, and thanked both them and the local secondary students for their help in creating the new open space.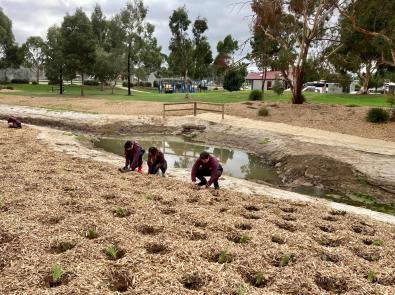 "We hope the naturalised waterway will become a place for the community to come together and reconnect with family, friends and nature for decades to come," Mr Clifford said.
 "Melbourne Water retained as much of the existing vegetation as possible during the construction of the waterway and had tree protection zones to ensure the integrity of the mature trees.
 "We hope the project increases community interaction and participation with Wallan Creek, creating opportunities for passive recreation and connection to place."
 Mitchell Shire Councillor Rob Eldridge said Wallan Creek in Hadfield Park is an important community asset.
 "We're grateful to Melbourne Water for the work they have done to create this new green space. Accessible open space is important for the wellbeing of our communities and the extensive work Melbourne Water have done means we now have even more space to enjoy," he said.
 "Our Shire is growing rapidly and balancing the needs of that growth with the need for open space in the community is an ongoing challenge. I know this new open space at Wallan Creek will be enjoyed by locals and will be a welcoming area for the thousands that will call our Shire home in the future.
 "This builds on the work by the Wallan Environment Group and other community members further down the creek to provide an important link between people and the environment."
 The watercourse traversing Hadfield Park was previously shaped to include a small concrete pipe to carry low flows, and a wide grassed channel to carry flood flows. 
 It was identified that removing the pipeline provided an opportunity to naturalise the watercourse and redesign the area to improve amenity and access and create a new open space for the community to enjoy.
 The new space includes:
 ·       40,000 native trees and shrubs to green the area and promote urban cooling;
·       open water pools to encourage local wildlife; and
·       earth-lock to stabilise erosion and promote plant growth.