Hero Image

Greater Melbourne Urban Water & System Strategy: Water for Life launches for consultation
Melbourne is consistently ranked as one of the world's most liveable cities, and water makes a significant contribution to the health and wellbeing of our population and making our communities a great place to live, work and play.
However, we are facing considerable water challenges over the next 50 years. Victoria's climate is becoming increasingly hotter and drier, and there's less water in our rivers. Our population is also growing and set to double by 2070 - meaning more people relying on our precious, limited supply of water.

By 2070, even with substantial annual contributions from our existing Victorian Desalination Plant, we may need to double our water supplies – adding an average of 12 billion litres each year. This growing demand must be balanced with providing more water to support long-term environmental health and Traditional Owner values.
As one of Australia's most water efficient capital cities, we are already great at making every drop count and making use of a range of different water sources such as desalinated water, recycled water and harvested stormwater, which help reduce pressure on our stressed rivers. We are ambitious to do more to ensure we use water wisely, but that won't be enough given the challenges of our growing city and drying climate. Over time, we will need to add new sources of water to further supplement our water supplies.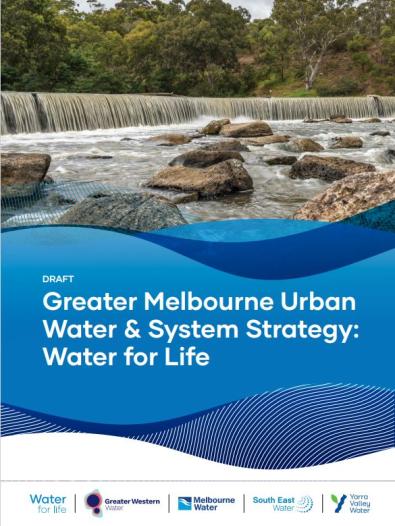 Earlier this year, we came together with Greater Western Water, South East Water and Yarra Valley Water to develop the Greater Melbourne Urban Water & System Strategy: Water for Life, a collaborative 50-year plan for addressing these challenges and providing a thriving and reliable water supply well into the future. Over the past 12 months, we've been working closely with our customers, communities, Traditional Owner partners and our independent Water for Life Community Panel to understand current water needs, concerns and ideas for the future.
We now have a draft strategy, which has been built on our best industry knowledge, shaped by ideas and feedback we've heard from the community and strengthened by input from our independent Community Panel. Before we submit the final strategy, we want to hear from you about the things you feel we've done well, or where you see room for improvement. You can read the full or summarised version of the strategy, explore our interactive dashboard or come along to an online community webinar and chat directly with the project team.  
No single solution can meet the challenges we face, and therefore Greater Melbourne Urban Water & System Strategy: Water for Life has investigated a range of options including climate resilient, manufactured water (desalinated and fit-for-purpose recycled water); optimising our existing network of dams and reservoirs; and increasing stormwater harvesting; rainwater; water efficiency and conservation efforts. 
Throughout the strategy, we've considered options in three categories: 
Water efficiency and conservation

to reduce demand on our system: For example, behaviour change programs, digital meters and water efficient household appliances 

Using diverse sources of water

to reduce demand on our system: For example, stormwater harvesting for irrigation of parks or ovals

Supply system augmentations

to increase water supply to our system: For example, manufactured water, such as desalination or fit-for-purpose recycled water.
The Greater Melbourne Urban Water & System Strategy: Water for Life needs to impart real change during the next five years, and set a strong foundation for water corporations to confidently meet our diverse water needs for the next 50 years. We are now asking our community to review and provide feedback on our plans for the future of Melbourne's water. This is your opportunity to help shape ways we secure our water supply for the next 50 years.  
Share your feedback or register to attend a community webinar online at www.waterforlifestrategy.com.au   
Survey closes 5pm Wednesday 13th July 2022.