Hero Image

Everyday local heroes inspired Lydia's love of firefighting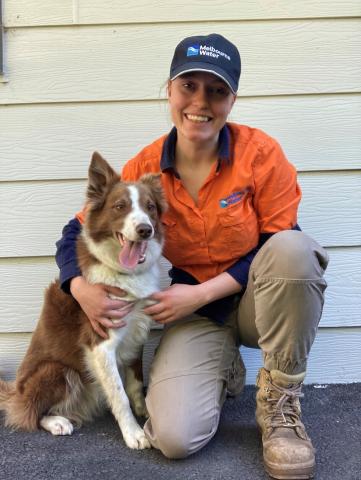 For Melbourne Water firefighter Lydia Hall, inspiration for her career choice came from close by – and she hasn't looked back.
It was from firefighting friends in Lydia Hall's community of the Yarra Ranges -  including her neighbour – that sparked her initial interest and pursuit of the profession and propelled her into a job which she is passionate about.
"They had so many great adventures and stories to tell. It was clear to me that they loved their job and felt they made a positive difference to their community," Lydia Hall said.
"That inspired me. Growing up in the Yarra Ranges, this resonated with me - I too wanted to help protect the community and bush that I loved so much."
After spending four seasons as a project firefighter with the Department of Environment, Land, Water and Planning (DELWP), Lydia Hall joined Melbourne Water in a full-time role as part of the civil team at Warburton in December 2020.
Lydia Hall is the Health and Safety Representative for our North East Civil crews for both general field work and firefighting activities, ensuring the safety and wellbeing of the team is met.
She's also keen to keep learning and honing her skills with  plans to complete the Fire Crew Leader course and also become a fire tanker driver
Before joining Melbourne Water, Lydia Hall studied and worked as a vet nurse.
"I adore animals. Another great aspect of this job at Melbourne Water means I get to help protect our precious wildlife and their natural habitats as well," Lydia Hall said.
Melbourne Water firefighters safeguard 156,000 hectares of water supply catchment as part of Forest Fire Management Victoria (FFMVic) and alongside agencies including Fire Rescue Victoria (FRV) and the CFA.
During bushfire season when not fighting fires Lydia Hall is kept busy ensuring Melbourne Water's assets are protected.
"I have been part of fuel reduction burns near our Upper Yarra catchment as well as the planned burn preparation," she said.
"This involved felling hazardous trees (pictured left) to remove risk to our teams and the community.
"I've also been part of recovery efforts and the clean-up after last month's destructive storm and flood events in our area.
"There's diversity in what I do and I also get to work with many different and talented people who really care about what they do. We try to make a difference every day - whether its fighting fires, protecting Melbourne's water supply or working out in the bush as a team.
"I love this job and am grateful for the special places I get to work."
Melbourne Water is now taking applications for seasonal firefighters. So if you are keen to take on the challenge and help protect our precious water catchments, native wildlife and environment then click here for more details.