Hero Image

Celebrating women in engineering
It's International Women in Engineering Day, a time to shine the spotlight on the impact and achievements of women in the field.
Melbourne Water is proud to be home to many of the sector's leading female engineers working across a variety of roles and fields. We are excited to share some of their stories as we embrace the theme for 2022, Inventors and Innovators #ImagineThe Future.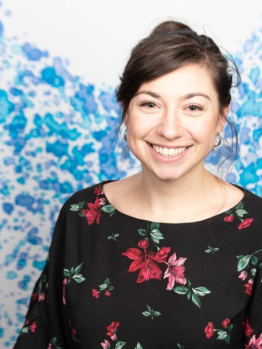 Alice Greco – Civil Engineer
Project Manager Major Infrastructure Projects
Alice is the link between Melbourne Water and the State's Big Build projects, ensuring its assets, services and floodplains are protected during works.  Although a complex and challenging role, Alice loves being involved in large scale projects, including the Level Crossing Removal portfolio. She finds great joy in being able to see the benefit her work provides to the community. 
Alice comes from a family of male engineers, but never seriously considered the profession herself until she was in year 10 at school, where two women from Engineers without Borders delivered an inspirational talk to her class.
"Hearing these women speak so passionately about the change they've been able to create in the world through their careers excited me for a future in engineering," Alice said.
From then, Alice has not been afraid to go against the grain and push boundaries and believes a more diverse workplace genuinely creates better outcomes.
"A future with more female engineers will change the way organisations view empathy, communication and leadership. It not only allows for different perspectives to be captured, but also allows room for innovation and new ideas. Reaching 50/50 women in the industry cannot start in companies, it needs to start in school, in households, and to be ingrained in our culture."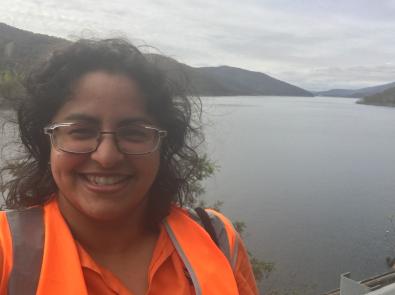 Stephanie Hastings – Mechanical engineer 
Area Lead Project Development Water Asset Management Services
Stephanie leads a multi-disciplinary team of engineers and asset managers preparing business cases to secure funding for renewals of assets like treatment plants, service reservoirs, water transfer mains, tanks and pumping stations.  
Stephanie said this work has been challenging in recent years, due to the economic and social impact of the COVID-19 pandemic, and a number of natural disasters.
Stephanie loves learning new things and was drawn to working at Melbourne Water because of the opportunity to make a tangible difference in peoples' lives.
"I am born and bred in Melbourne so for me, it is a real privilege to work at such an incredible organisation that has a real and positive impact on my local community in a multitude of ways," Stephanie said.
"Over its long operating history, the Melbourne and Metropolitan Bard of Works (MMBW) and now Melbourne Water, has contributed so much to the fantastic way of life that we are fortunate enough to enjoy in Melbourne."
"For me the theme for International Day of Women in Engineering evokes positivity and future-focus thinking. The world is full of complex problems looking for solutions. Engineers are smart and creative people who enjoy working in mixed-discipline and highly-skilled teams. I think this is what makes engineers good in either technical and management roles."
The image of Stephanie is from a site inspection at Thomson; Melbourne Water's largest water storage reservoir.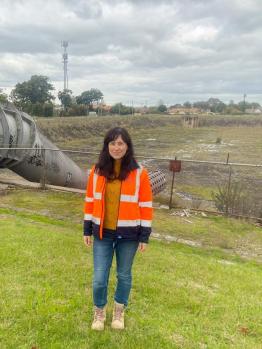 Mary Daaboul – Chemical Engineer
Bulk Water Transfer Operator  
Mary's role is to manage water transfer strategy and ensure optimal water is supplied by Melbourne Water's 10 major reservoirs. This ensures Melbourne Water provides water where it is needed at the best quality and least cost to the community.
Mary thoroughly enjoys the collaborative nature of her role and being able to provide strategic guidance when challenges arise like severe storms or bushfires within Melbourne Water's catchments.
The theme of 2022 International Day of Women in Engineering, 'Inventors & Innovators' #ImagineTheFuture, resonates clearly with Mary.
"Being an inventor or innovator is at the heart of engineering: solving problems. You can use or modify technology or tools that already exist to solve a problem, you can create your own tools, or you can find someone to create them for you. I love embracing new technology because something that was previously not achievable can suddenly become viable," Mary said.  
The image of Mary is from a decommissioned service reservoir in Melbourne Water's Preston Site.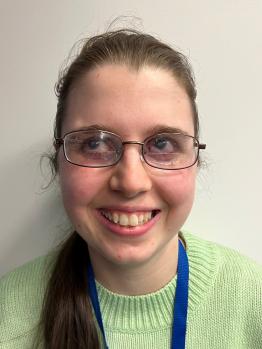 Clare Whelan – Graduate Engineer
Clare started in Melbourne Water's graduate program four months ago and is enjoying learning something new every day.
Her current role includes a wide range of projects such as creating supply-demand graphs for each water retailer in the Melbourne Region for the next 50 years and investigating the effects of climate change, farm dams and irrigator behaviour in an unregulated catchment. 
Clare said she has a curious nature and a keen interest in science. A school trip to Timor Leste had a big impact on her career path.
"I visited a school and community which were experiencing water insecurity. The local people had to hike 45 minutes to a well and carry what they could back to the community. That is when I became interested and passionate about water and using my skills to do something to help people."
Clare has this advice for those who may also be contemplating a career in engineering: "Follow your dream. Don't be dissuaded by what others think you should do or by how many women are in your STEM classes at school or university.  I find engineering so interesting and rewarding. No day is the same, I am able to help our community and there are so many paths open to me in the future."
Media Contact:  [email protected]